Services Offered
The following is a complete list of our Design/Build Services:

Complete landscape design, architectural drawings, and full property master plans.
Representation by New York State landscape architect at architectural review board meetings.
All Masonry:

Brick & Bluestone
Tile, Granite, Pavers
Marble & Travertine

Decks
Outdoor Kitchens, Barbecues, and Cabanas
Fireplaces and Fire Pits
Swimming Pools, Spas, and Fountains
All Plantings and Perennial Gardens
Driveways and Drainage Systems

Permeable Pavers
Drivable Grass - Permeable, Flexible Concrete Paving Systems
Brick and Concrete Pavers
Cobblestone - Curbing, Inlays and Paving
Grass Pavers and Plastic Turf Reinforcement Grids
Concrete and Asphalt
Oil and Stone
Entry Gates and Piers
Catch Basins and Drywells

Irrigation and Lighting
Complete site development: Land Clearing, Excavation, Dry wells, Grading, and Soils
Horticultural Consultants; CNLP'S on staff (Certified N.Y. State Nurseryman)
Landscape Renovation; Tree and Shrub transplanting (any size)
Rain Water Harvesting
Hort. Management:

Seasonal plantings: Annuals, Tropical's, Containers, Bulbs, and Winter Greenery.
Pruning and dead heading of all Shrubs, Perennials, Flowers, and Bulbs; Minimum twice per year.
Mulching and Composting
Winter Pruning

Recycling: Morell Landscape Associates recycles all the resultant debris from landscape projects: Concrete, brick, stone, asphalt, trees, stumps, and brush. Along with all landscape debris and plastic containers from plants and flowers.
MISSION STATEMENT
Our goal at Morell Landscape Associates is to provide our clients with an imaginative stress free approach to achieving the finest outdoor environment possible.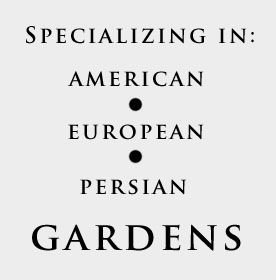 Morell Landscaping Associates offer the following services:
Address: 150H School St.
Westbury, N.Y. 11590
Telephone: (516) 338-9095
FAX: (516) 338-0303
E-mail: contact@morelldesign.com